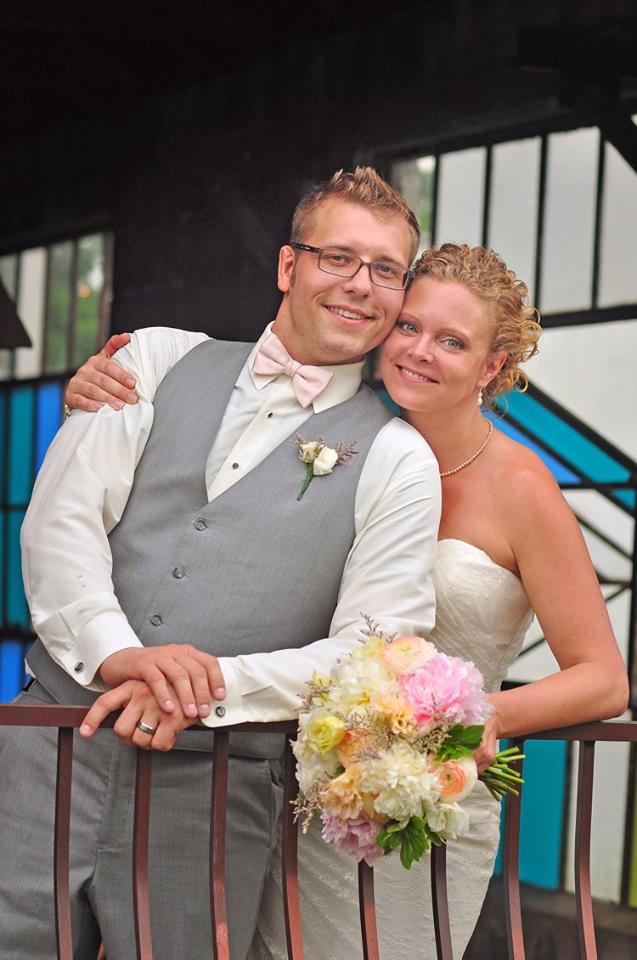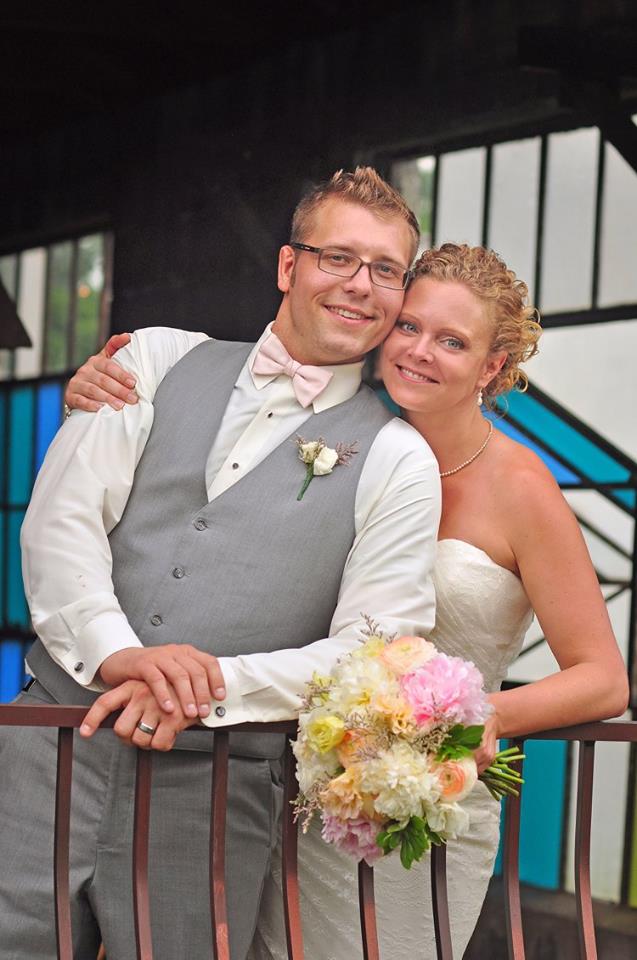 Pete and Kristin hosted their Sundance Studios Wedding on a balmy, breezy Saturday in July. Sundance Studios Vintage Event Space is a brand new wedding venue located in Millburg, Michigan. It is also associated with her sister venue, the very popular, Blue Dress Barn, located just down the road. It is an old building that has been transformed into a beautiful venue equipped with some beautiful antique furniture and décor. This is the type of venue is one where customers rent the space and everything else (tables, chairs, dinnerware, food, etc.) must be supplied by other vendors.
Pete and Kristin chose to have their ceremony and reception both at Sundance Studios. As guests walked into the main entrance, they were escorted through the venue to the rear and up a staircase leading to the ceremony site located on beautiful, lush grass with white chairs ready and waiting. Once the ceremony concluded, guests were directed just to the right of the ceremony site to relax and enjoy a cocktail or two while talking amongst friends and family.
The official start of this Sundance Studios Wedding's dinner hour began with the introduction of the parents of the bride and groom, bridal party, and Pete and Kristin, all walking out and showing off some spectacular dances moves to Walk The Moon's "Shut Up And Dance". As for the main entrée of the evening…a build-your-own-grass-fed-burger bar equipped with all of the fixings and eggs made to order!
Guests also did not have the opportunity to clink glasses in order to get Pete and Kristin to kiss throughout dinner. Instead, in order for the bride and groom to kiss, guests had to grab the mic and sing a Disney song! We heard some awesome renditions of "Hakuna Matata", Let It Go", and "I'll Make A Man Out Of You".
Once the dancing portion of the evening began, it was up to everyone to leave it all on the dance floor…and they did! Guests were jamming away to some of Pete and Kristin's favorites by Rihanna, Chris Brown, Clean Bandit, Michael Jackson, Walk The Moon, and Avicii! All in all, it was an absolutely perfect afternoon and evening for Pete, Kristin and their friends and family.
We are so happy we had the opportunity to be a part of this memorable Sundance Studios Wedding!
Venue: Sundance Studios Vintage Event Space
Photographer: Lewis Hizer Photography
Videographer: Forever Fossilized