CHICAGO WEDDING DJs
Let's Get Your Party Started!
Your DJ search stops here. You need to have a say in what you want at your wedding. You need to feel completely comfortable and confident in your DJ company. Your wedding needs to be as unique as possible to you. Why?
Because you deserve it.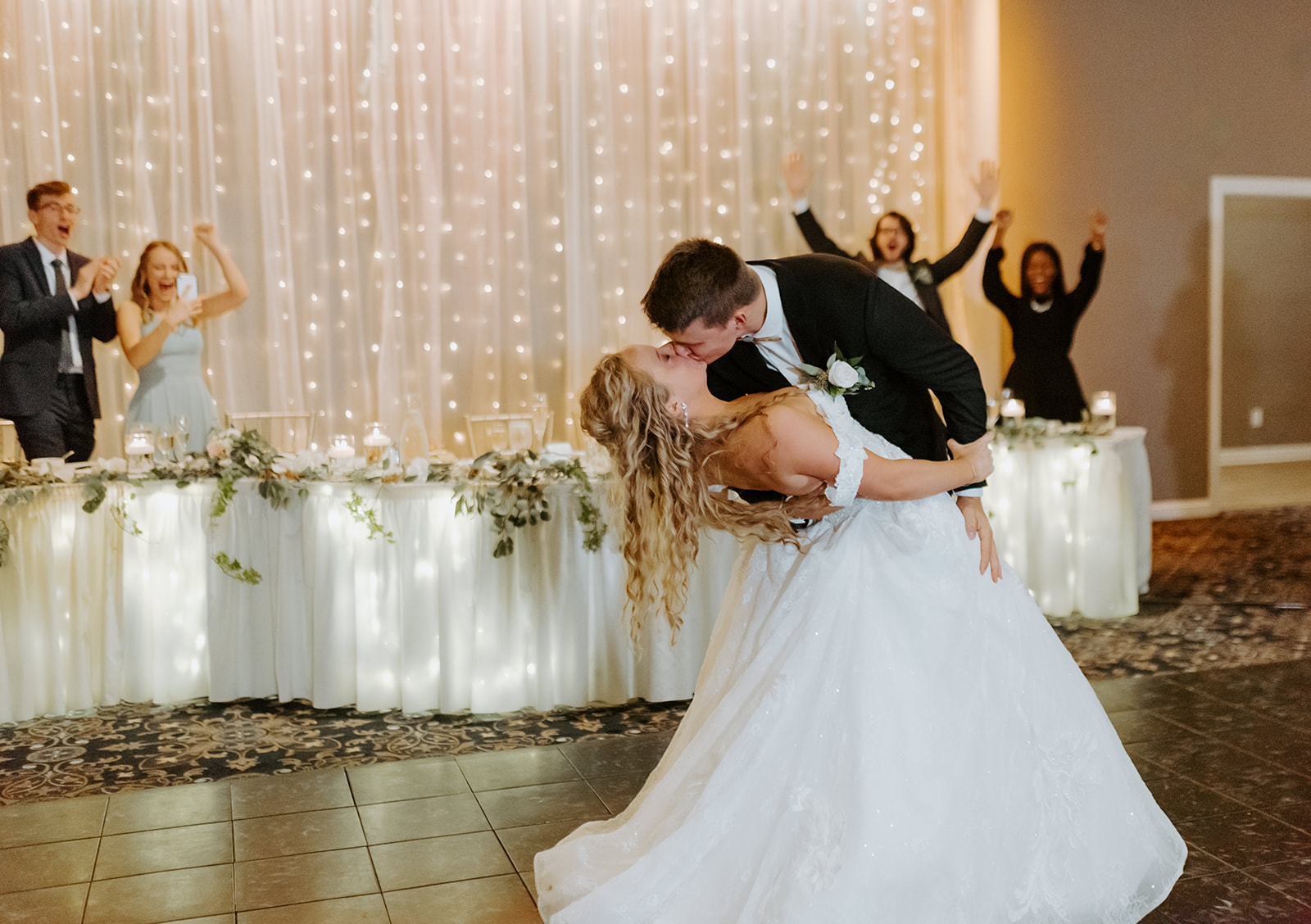 "Stop looking for DJs for a wedding or event – this is who you want!"
"Don't be afraid to ask Nick and the team ANY questions as they get excited about opportunities to go above and beyond!"
"We got SO MANY compliments on their ability to transition from song to song, their energy, and their ability to "read" the dance floor!"
Find the Right Package for Your Wedding
Feel free to add on more services to the package of your choice at any time!
White Oak
The essentials for your reception
$
1,995
Up to 6 hours of energetic and exciting DJ/MC service
Fun, creative music selections for your wedding
Innovative 24/7 planning to help make your wedding a success
Just the right amount of lighting to complement your dance floor
Want Nick Vera? Add $1,500
Lincoln
Give your guests a photo booth!
$
2,895
Includes everything in the White Oak Package
Interactive modern photo booth that your guests will love
Want Nick Vera? Add $1,500
Skyline
You get it ALL.
$
3,995
Includes everything in the Lincoln Package
Architectural uplighting to complement your reception space
Perfect ceremony audio so all of your guests can hear
Want Nick Vera? Add $1,500
"After reading the raving reviews and communicating with 5 other DJ vendors, Impulse Entertainment was our #1 choice. And they did not disappoint."
"When we met with Nick, we immediately knew that we wanted to spend the extra money so that he would personally DJ our wedding. A bad DJ can break a wedding and we just knew Nick would make our night one for the books and he truly went above and beyond!"
"We've been to many weddings as both a guest and part of the wedding party and no other DJ has ever compared."
Add-ons:
Ceremony Audio
Crystal-clear audio and perfectly-timed music for your "I do's".
Starts at $495
Photo Booth Upgrade
Upgrade your modern photo booth to include prints and a scrapbook.
$295 to Lincoln or Skyline
Uplighting
Add a touch of elegance to your reception space!
$795 for 20 fixtures
A la carte: $50/fixture
Overtime Rate
Need more time to party? We can make it happen!
$300 per hour
Out of Our Area?
We'll happily travel outside of our service area for your event! Give us more information and we can accurately quote you.
"If we did not use Impulse Entertainment things would have not gone as smooth as they did!! SO WORTH THE MONEY!!!!!"
"They exude a ton of energy and are very attentive and communicative throughout the entire process. They knew exactly which songs to play to keep the crowd entertained and was worth every penny."
"I work in the wedding industry and my brother in the music industry and we both agreed Nick and his team were hands down the best DJs we've ever come across! The DJ is an area a lot of people try to save their money but I now know why it's truly worth investing in a quality DJ! "
IEDJS vs. The Rest
Have you met with other DJ companies? Do they do all of the things that are always included in our packages?
Professional sound system
Scheduled monthly email updates
Check in with parents' tables during dinner
Serve one of your first drinks of the evening
24-hour or less response time guaranteed
Online Planning Portal for full customization
Relieve your wedding entertainment stress
Will contact all vendors before your wedding
Access 100,000,000 songs in our music databases
 "I am not exaggerating when I say that I had 5+ guests specifically comment to me personally on how amazing our DJ was!"
"From the planning leading up to our wedding to the day of, they were extremely well organized and meticulous with every detail. And that's coming from a Type-A bride."
"They made sure the day of everything ran smoothly and kept us up-to-date on any changes as well as checked in on us offered to get us drinks and anything we may need. 20 out of 10 would recommend and would use them again."
FAQs
This is a great question to ask considering the fact that there are so many different Chicago wedding DJs to choose from. Depending on the type of your event, you may be stressed out and have a lot on your plate. We are here to help you! Once we set up a consultation meeting and discuss your event, you can leave the stressing to us! We will take care of everything necessary to make your event run as smoothly as possible.
Yes! For weddings specifically, we recommend starting with the White Oak package. From there, you can add on any additional services that you would like.
Yes! We are covered up to $1,000,000 for any liability incident. If your chicago wedding venue requires vendor insurance, please make sure to let us know and we'll do the rest!
Currently, we serve Chicago's north, west, and south suburbs. However, we are not opposed to traveling further for events. We must note that if your wedding reception or event is out of our service area or in the city, travel costs will be added to your package. This will always be discussed and presented to you prior to signing a contract.
Yes – we have experience with just about every kind of event out there! From corporate parties, fundraisers, and large-scale community events to smaller private celebrations, we have the knowledge, experience, personnel, and equipment to handle your event.
This pricing is determined on several factors (date, location, number of guests, equipment needed, etc.). To receive accurate pricing, fill out a contact form on our website or call our office!
Most definitely! — But this is up to you. If you want your guests to request songs, we will take requests. If you want us to honor a specific playlist we will do that too! By taking requests, your guests can get involved in your event and we can have some fun and interact with them as well!
In today's world of music, we literally have access to just about every song out there, and at no additional cost to you! We are also part of several DJ-exclusive record pools that continually release old and new tracks alike. Our songs are downloaded at the highest quality possible (and legally) to ensure you and your guests experience a crisp, clear sound.
We understand that many events (especially weddings) have guests from the ages of 2 to 92! The last thing we want to do is offend anyone with inappropriate lyrics. We make sure that all of our music (even today's popular songs) is edited to please everyone. In fact, that is all we will play unless you request otherwise at a meeting. Furthermore, we use our best judgement when there are younger people in the crowd to make it a fun-filled night for everyone.
This is a question that we get a lot – and for good reason! You want to make sure that you're covered.
We always have a DJ or two in the "flex" position on any given week/weekend to step in for someone if needed. Rest assured, we will always have your back and make sure that you have a professional DJ that is up-to-speed on all of your event details.
A flex DJ has only been used once when COVID was more prevalent. Please note that Impulse Entertainment has never missed an event – ever.
Nick, the founder of Impulse Entertainment, is one of the most sought-after DJs in the Chicagoland area due to his reputation, talent, professionalism, and genuine personality.
Therefore, his services are in high-demand and his availability is limited. It is not unusual for him to book dates at least 12-24 months in advance (though, you'll sometimes find availability 6-12 months from your event depending on the date).
If you are seriously interested in Nick being your personal DJ, we recommend booking him sooner rather than later!
Ready to Start Your Party?
For more details, please contact us via email, fill out the form below, or text/call 708.381.0304