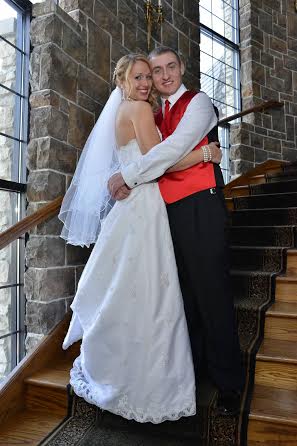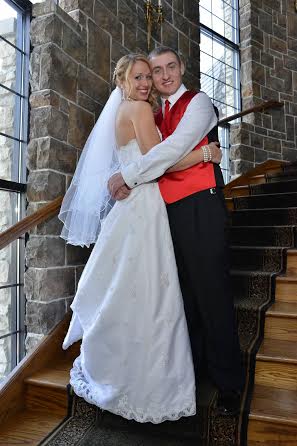 Jamie and Ashley had their Royalty West Banquets Wedding Reception on a sunny-filled blustery Valentine's Day 2015. Located in Willow Springs, Illinois, Royalty West Banquets is a medieval-styled venue fit for a King and Queen! This venue is equipped with beautiful stone arch walls, knights in shining armor and elegant winding staircases all while immersing your guests in a truly remarkable renaissance-themed party.
This Royalty West Banquets Wedding Reception was located in the Castle Room (the smallest room in the venue) which seats anywhere from 40-80 guests. With a walk-up bar attached to this room, guests wined, dined and were treated to the sounds of Ben Howard, Ben Rector, Coldplay and Mumford & Sons.
The dance floor was opened with Whitley's "More Than Life" for Jamie and Ashley's first dance as husband and wife. In lieu of a father/daughter dance, Ashley danced with her brother, LJ, to Bette Midler's "Wind Beneath My Wings" that brought tears to everyone. This was one of the more memorable moments of the day and it was beautiful! Concluding the special dances was Jamie and his mother dancing to "Simple Man" by Shinedown. Elton John led the rest of the guests out of their seats for an Anniversary Dance and before we knew it the dance floor was off and running! We were even able to get some Taylor Swift in for the flower girls!
All in all this Royalty West Banquets Wedding Reception was one to remember as Jamie and Ashley tied the knot and started their lives together as husband and wife! We wish these two nothing but the best and they start their married life journey and cannot thank them enough or letting us be their Willow Springs Wedding DJ and be a part of their awesome Royalty West Banquets Wedding Reception!
Venue: Royalty West Banquests
Photographer: Stephanie Serine