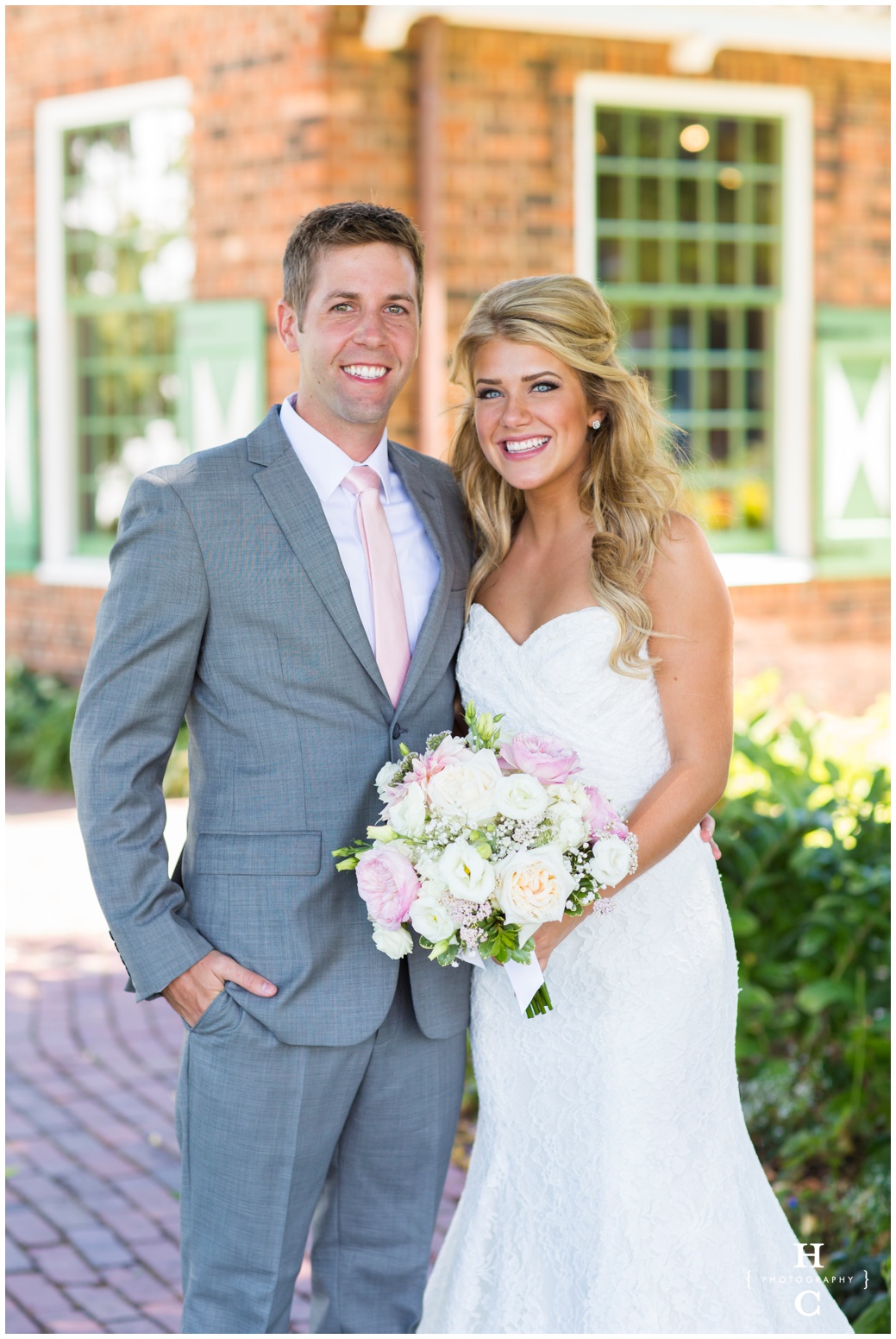 Eric and Christian tied the knot on August 1, 2015 at their breathtaking Windmilll Island Wedding located at the edge of downtown Holland, Michigan. This beautiful oasis features a 250-year old working windmill that reaches 125 feet into the sky. Additionally, during the Spring over 115,000 bloomed tulips provide an amazing accent to the Little Netherlands Village that tourists and locals alike can experience on a seasonal day.
This Windmilll Island Wedding ceremony was held under the Wedding Gazebo at the Celebration Pavilion and after, guests made their way to the White Wedding Pavilion just to east of the ceremony site. As guests enjoyed a few cocktails, they were also able to indulge in a few yards games or sit and take in the beautiful sunshine.
Once the bridal party lined up and everyone was seated, introductions began. These bridal party members were definitely enjoying themselves during the introductions as they were showing off some awesome dance moves. All of this happened before everyone was up on their feet and putting their hands together for the superstar couple who "stands a combined 11 feet, 8 inches (with Christian's heels), both hailing from the western Michigan region", and ran through a tunnel of hands and arms made by the bridal party!
After this, the dinner hour commenced with a beautiful slideshow displaying some of Eric and Christian's childhood photos for all to see. Then the dancing started! During the father/daughter dance, we were instructed to have everyone stand, raise his or her fist in the air and sing along. It was the University of Michigan fight song "Hail To The Victors"! There was a mix of boos and cheers, which all subsided when Christian and her father shared their special dance together. Once the dance floor opened for all of the guests, it was packed until the last song with the crowd chanting "one more song, one more song!"
Additionally, Eric and Christian elected to do a "sparkler sendoff" for their departure. A sparkler sendoff is where all remaining guests grab a sparkler and light it. Then they create a pathway for the bride and groom to run through out of the reception venue. It is a great way to spice up any entrance or exit for your wedding day!
Overall, this was an incredible Windmilll Island Wedding to be a part of. The day was perfect, the food was awesome, the memories made were great and the dancing was unreal! Congratulations to Eric and Christian on their Windmilll Island Wedding! We wish them all the best as they start their lives together as a newly married couple!
Venue: Windmill Island Gardens
Photographer: Hannah Cooper Photography