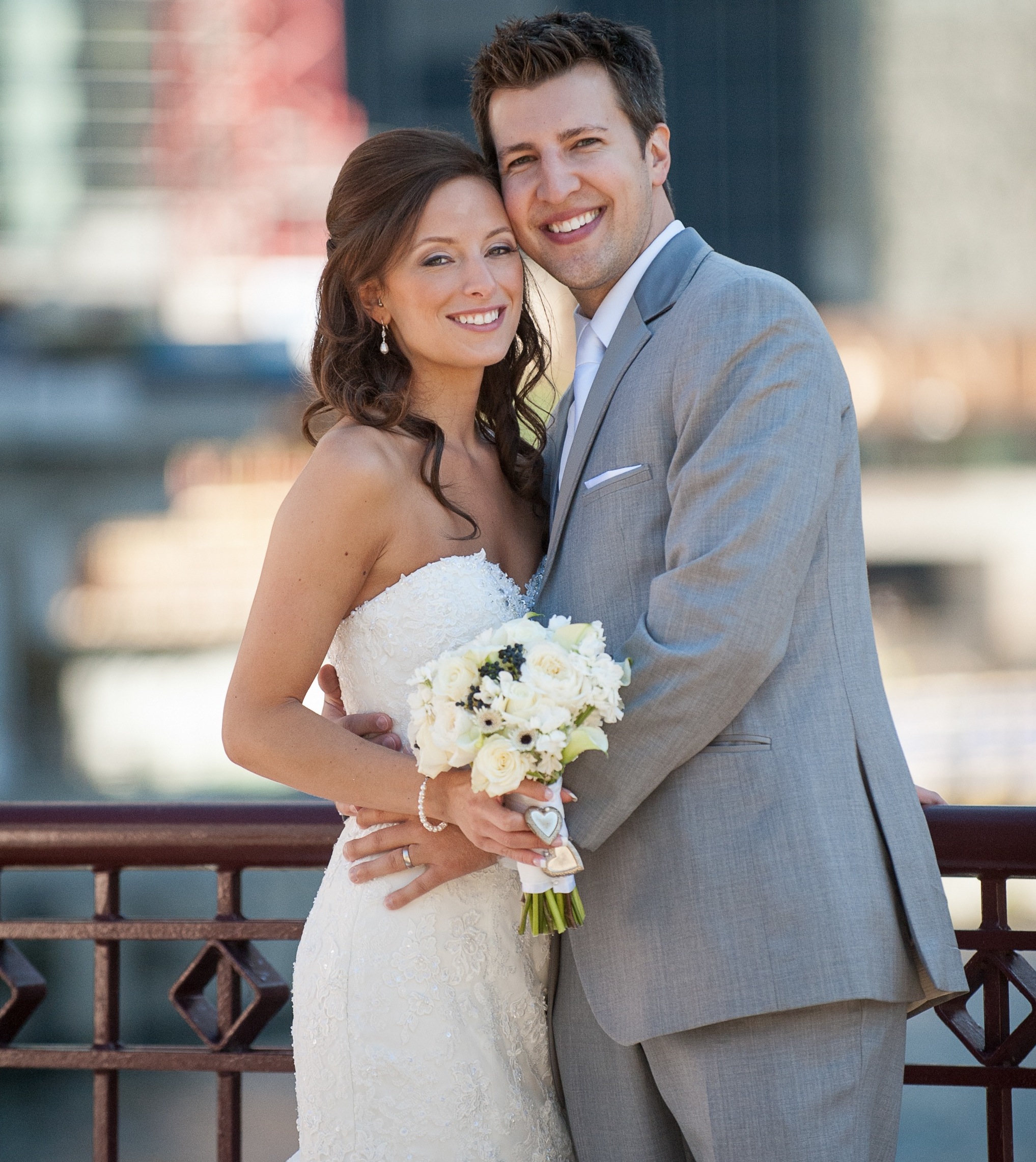 We were spoiled this month by all of the beautiful ceremony backdrops we got to see! This week, we went from witnessing all of the beautiful things nature had to offer, to the concrete playground of the Midwest, downtown Chicago! A rooftop wedding with the skyline in the background as Jeff and Julie said "I Do"? Why not! Talk about a breath-taking view!
Jeff and Julie tied the knot on September 13, 2014 at their National Italian American Sports Hall of Fame Wedding on the west side of the city in the heart of Little Italy. Before the ceremony began, guests were able to walk through the two floors of Italian American memorabilia and snap photos of (the real) Rocky Balboa's boxing shorts and gloves, Mario Andretti's actual Indianapolis 500 winning race car, Phil Mickelson's golf bag he sported during the 2008 Ryder Cup.
The rooftop comfortably sat all 150 guests for the ceremony. There was a live violinist and cellist that provided exquisite pre-ceremony and ceremony music which capped off a day that was planned in style! After the ceremony guests could catch a glimpse of Chicago's skyline while sipping on their favorite beverage and enjoying some 90′s alternative tracks that were hand-picked by the bride and groom.
The actual reception took place on the second floor of the museum in the Grand Piazza Ballroom. The head table was set right in front of 3 huge-paned floor-to-ceiling windows that overlooked the city. During this time, guests were able to mingle, enjoy spirits, and have incredible food!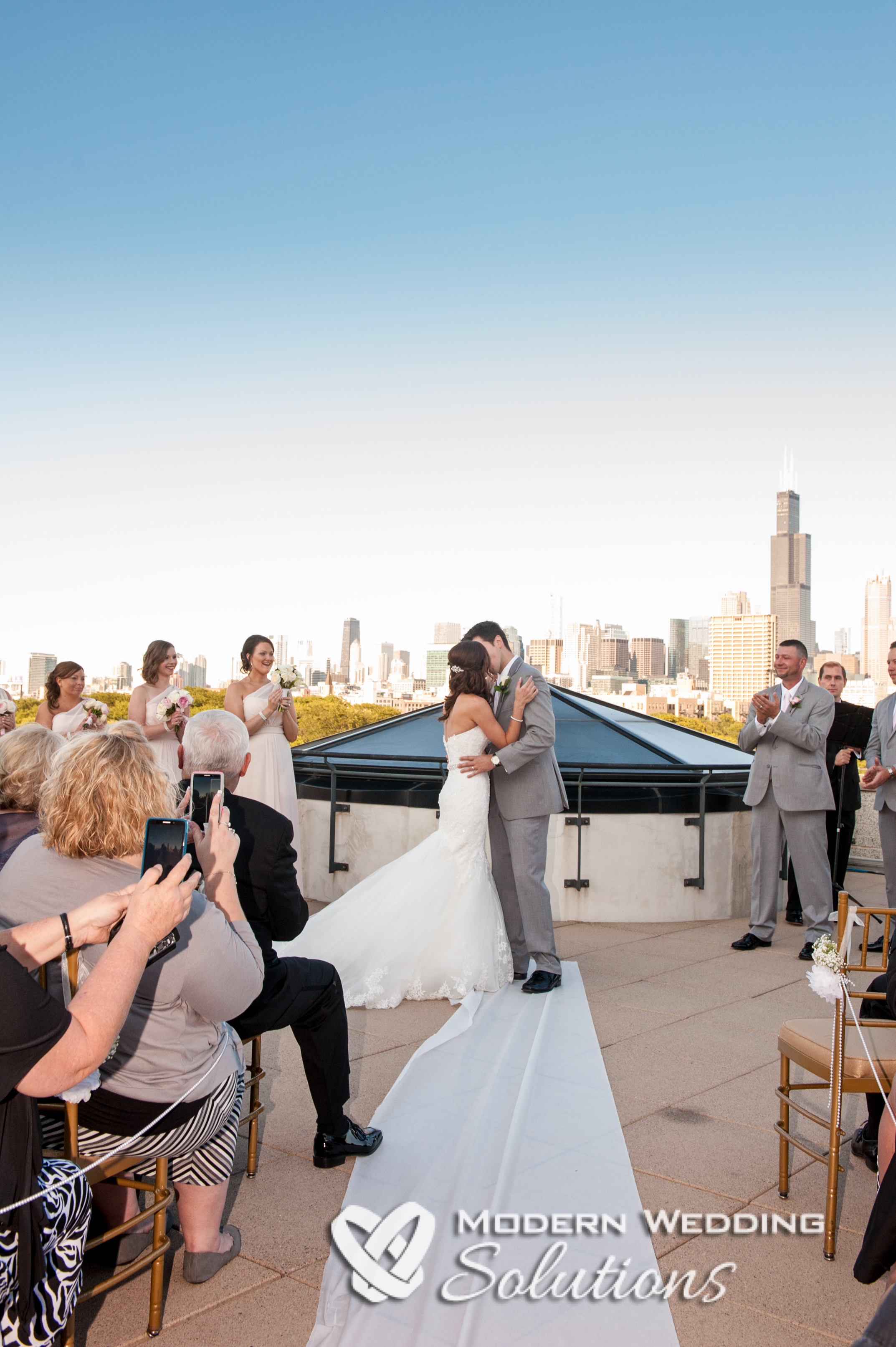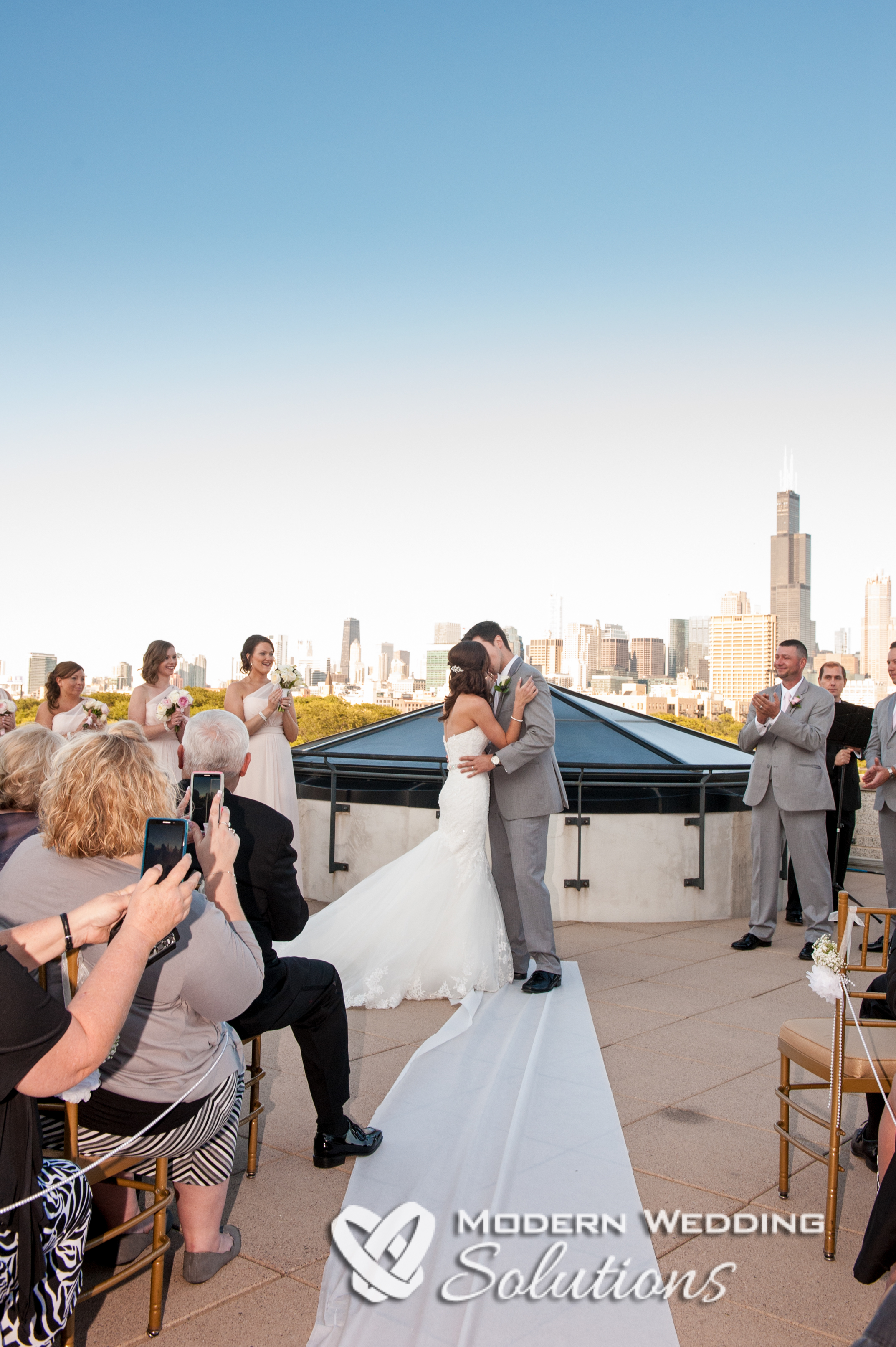 Jeff and Julie's dance was one to remember that they danced to John Legend's "All Of Me" but then halfway through the song Tiesto's remix came on and the entire bridal party came out and danced along with the bride and groom! It is safe to say that that dance started off the energetic, fist-pumpin' dancing that would continue until late in the evening. Jeff and Julie wanted to hear a variety of tracks such as classic hip-hip and rap, today's current hits and yesterday's favorites. We were even able to sneak some EDM tracks in for Jeff (who is a diehard fan) such as Martin Garrix's "Animals", Icona Pop's "I Love It" and Avicii's "Levels" which even had the mother of the groom out on the dance floor! Then to top it all off, Jeff's young nephew stole the show by performing "The Dougie" in front of everyone!
This wedding was absolutely gorgeous and everyone seemed to have a great time! It was a truly unforgettable ceremony and energy-filled reception! Congratulations to Jeff and Julie on your wedding! We are so happy for you and cannot thank you enough for letting us be a part of your awesome day!
Venue: National Italian American Sports Hall of Fame
Photographer: Modern Wedding Solutions
Caterer: Victoria Banquets