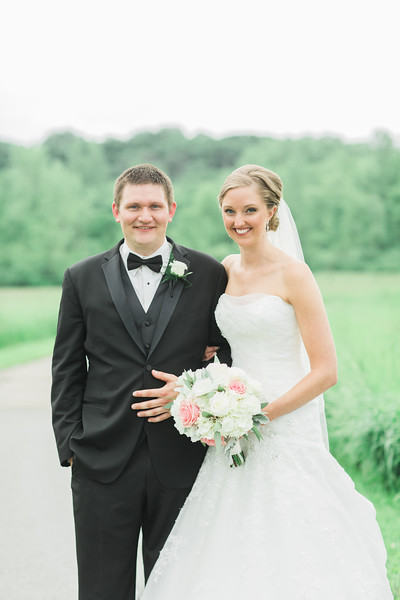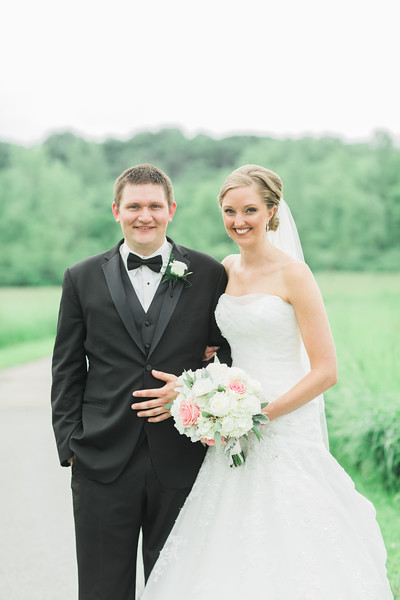 Jay and Elizabeth had their Crystal Tree Country Club Wedding Reception on Friday, May 29, 2015 in Orland Park, Illinois. This was our first time performing at Crystal Tree Country Club and based on our experience, this is most definitely one of the classiest and most elegant wedding reception venues, not just in Orland Park, Illinois but, in Chicago's southwest suburbs. During the cocktail hour, guests are escorted to the cocktail hour (next to the main reception room), where they can sip on a few drinks and snack on some hors d'oeuvres both, which are hand-served. Once the Crystal Tree Country Club Wedding Reception is scheduled to begin, Crystal Tree Country Club staff walk around ringing bell signaling for guests to start making their way to their seats. Guests are greeted with a beautifully decorated room with a gorgeous view of the Crystal Tree Country Club greens and community.
Once guests where seated and ready, Jay and Elizabeth's parents along with their bridal party were introduced to Flo Rida's "Good Feelin'". Then guests got on their feet and made some noise as the happy couple made their grand entrance into their Crystal Tree Country Club Wedding Reception with the help of the 2 Unlimited 90's hit classic "Get Ready For This".
For the dinner hour, Jay and Elizabeth requested something different then some of the Classy Classic tracks that we can offer (Frank Sinatra, Michael Buble, etc.). Instead, guests were tapping their feet and singing along to elegant piano versions of some of today's Top 40 tracks like Adele's "Rolling In The Deep", Pitbull's "Give Me Everything" and One Direction's "What Makes You Beautiful".
As dinner was wrapping up, Jay and Elizabeth were invited to the center of the dance floor to participate in the Newlywed Shoe Game. Some of the questions that were asked were: "Who said 'I love you' first?", "Who has a better memory?", "Who wants to keep the swimming pool in your backyard?…..Who wants to get rid of it?" and "Who do you love most right now?"
After this, the dance floor was open and it was Pastor Derek Buikema who stole the show for the second wedding this season with his unbelievable rendition of "Shut Up And Dance" by Walk The Moon that had everyone on the dance floor singing along with him! The final song of the evening was Shakira's "Waka Waka (This Time For Africa)"…. unbeknownst to everyone that that gave away Jay and Elizabeth's honeymoon secret – Africa!
This Crystal Tree Country Club Wedding Reception was one to remember and we are so happy that we had the opportunity to get to know Jay and Elizabeth and make their Crystal Tree Country Club Wedding Reception an unforgettable one! Thanks, guys, for letting us be your Orland Park Wedding DJ! We appreciate the opportunity!
Venue: Crystal Tree Golf & Country Club
Photographer: Michelle Hamstra
Videographer: JKS Productions