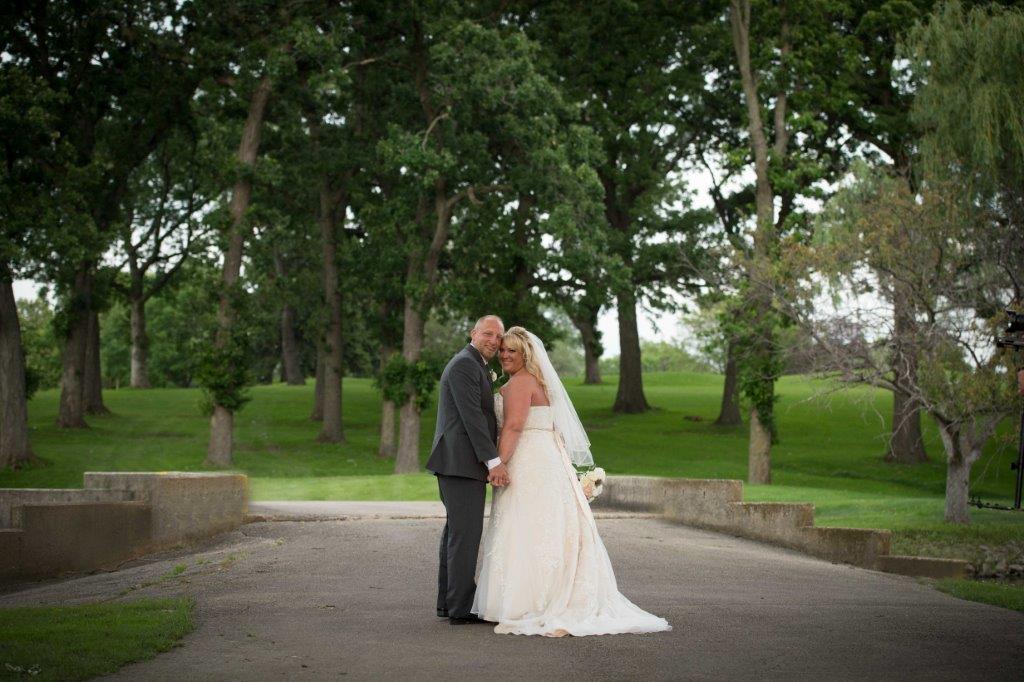 Brian and Cami tied the knot at Silver Lake Country Club in Orland Park, Illinois on June 19, 2015. The ceremony was located onsite just off one of the golf greens with a beautiful view of a pond and fountain as a picture-perfect backdrop. Their Silver Lake Country Club Wedding Reception immediately followed in the East Garden Room and guests could hear a wide variety of Indie Rock from the likes of MGMT, The Black Keys, and Los Lonely Boys while partaking in a drink or two.
One of the highlights of this Silver Lake Country Club Wedding Reception was Brian and Cami's same-day edit, which was completed by the videographer, JKS Productions. A same-day edit is a feature that some videographers offer where the bride and groom are treated to edited video footage of their wedding day so far. Brian and Cami, as well as their guests, got to enjoy watching a 3-minute video of the bride and groom getting ready before the ceremony, scenes from the ceremony, and some footage from after the ceremony during a photo session. It is safe to say that both Brian and Cami enjoyed this and smiles gleamed across their faces while they sat in front of the projector screen!
After the same-day edit concluded, the dance floor opened to all guests; and we have to say that we saw some awesome dance moves to say the least! Everyone danced to some of the instant classics of the 80's and early 90's such as Def Leppard's "Pour Some Sugar On Me", Bryan Adams' "Summer of '69", and Whitney Houston's "I Wanna Dance With Somebody". All in all, this was another fantastic Silver Lake Country Club Wedding Reception and we were so glad that we were able to be a part of this one!
Congratulations to Brian and Cami on their marriage! We wish them all the best as they start their lives together as husband and wife and are honored that they chose us to be their Orland Park Wedding DJ at their Silver Lake Country Club Wedding Reception!
Venue: Silver Lake Country Club
Photographer: Erin Stefanik Photography
Videographer: JKS Productions