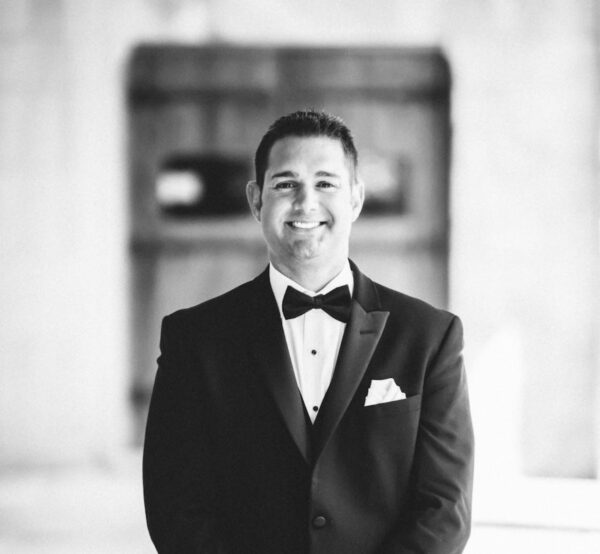 John G. has been hitting the play button, pumping the volume & mixing and recording music since the 4th grade! Born and raised in the Chicagoland area, he first discovered his passion for music and Hi-Fi sound at an early age. Soon after, while attending college at Eastern Illinois University, it was there he was able to further develop his early DJ/MC career by playing open format for all types of bars, house parties, fraternities, sororities and student events.
Post-graduation in 2007, he moved back to the Chicago suburbs and has been creating epic dance floors for countless Chicago wedding couples and their guests!
In his free time today, he works on producing all types of exciting, feel-good and high-energy dance beats with 80's, 90's, House, Rap, Rock, Pop and EDM signature blends, grooves & influences.
Read More About John G. Below:
Who's your all-time favorite artist? 
The Notorious B.I.G
What's your favorite part about DJing weddings?
I've always shared a deep passion for curating sounds and connecting others through music!  There is something just remarkably special about elevating the energy-level of a party, bringing others close together, and being a part of such a monumental & cherished life-time event and experience for someone else.
How would you describe your MC style?
I would describe my MC style as fun, engaging and interactive!  My personal style on the microphone however, is typically a more "natural style" approach, where I like to talk on the mic the same way I would speak in person, but with a bit more tone or inflection slightly added to it. However, if the client ever prefers the most formal type of "boxing style" MC or big stadium approach, then I have no problem meeting their request either.
How do you like to keep the dance floor rockin' all night?
I like to keep the dance floor rocking all night by playing the most popular or familiar and upbeat feel good dance music possible. I also like to push hard by selecting & playing through a lot of the best tracks throughout the night, basically never playing a full song, and transitioning from chorus to chorus and bypassing any slow or boring intro/outro sections of a song that no one really wants to dance during. Knowing the music well ahead of time & setting proper cues for quick transitioning is essential.
Why do you think someone should hire you to DJ their wedding?
I'm a professional, courteous and outgoing high-energy DJ who has an absolute passion for music, audio equipment, mixing/mashups & serving others. If you are looking for a DJ who is all about feel-good music, who loves their job, is always willing to go the extra-mile for someone and understands the importance of details…then I am absolutely the right DJ for you! Get ready, let's go!
Does John G. Sound Like a Good Fit for Your Wedding?
For more details, please contact us via email, fill out the form below, or text/call 708.381.0304