Wedding planning can be stressful and overwhelming, but finding the right Chicago wedding DJ for your big day shouldn't have to be. Impulse Entertainment is a Chicago wedding DJ company that is dedicated to making your special day unforgettable. Our commitment to providing top-notch service sets us apart from the competition and is why so many wedding couples choose us to be the soundtrack of their Chicago wedding reception.
24-Hour-or-Less Response Times. Guaranteed.
One of the most significant ways that Impulse Entertainment sets itself apart from other Chicago wedding DJ companies is with our 24-hour response time. We understand that planning a wedding takes time, and time is of the essence. Not to mention the fact that you deserve a response as soon as possible. That's why we guarantee a response time of 24 hours or less. Our team is available to answer any questions or concerns you may have, whether it's through email, phone, or our website contact form.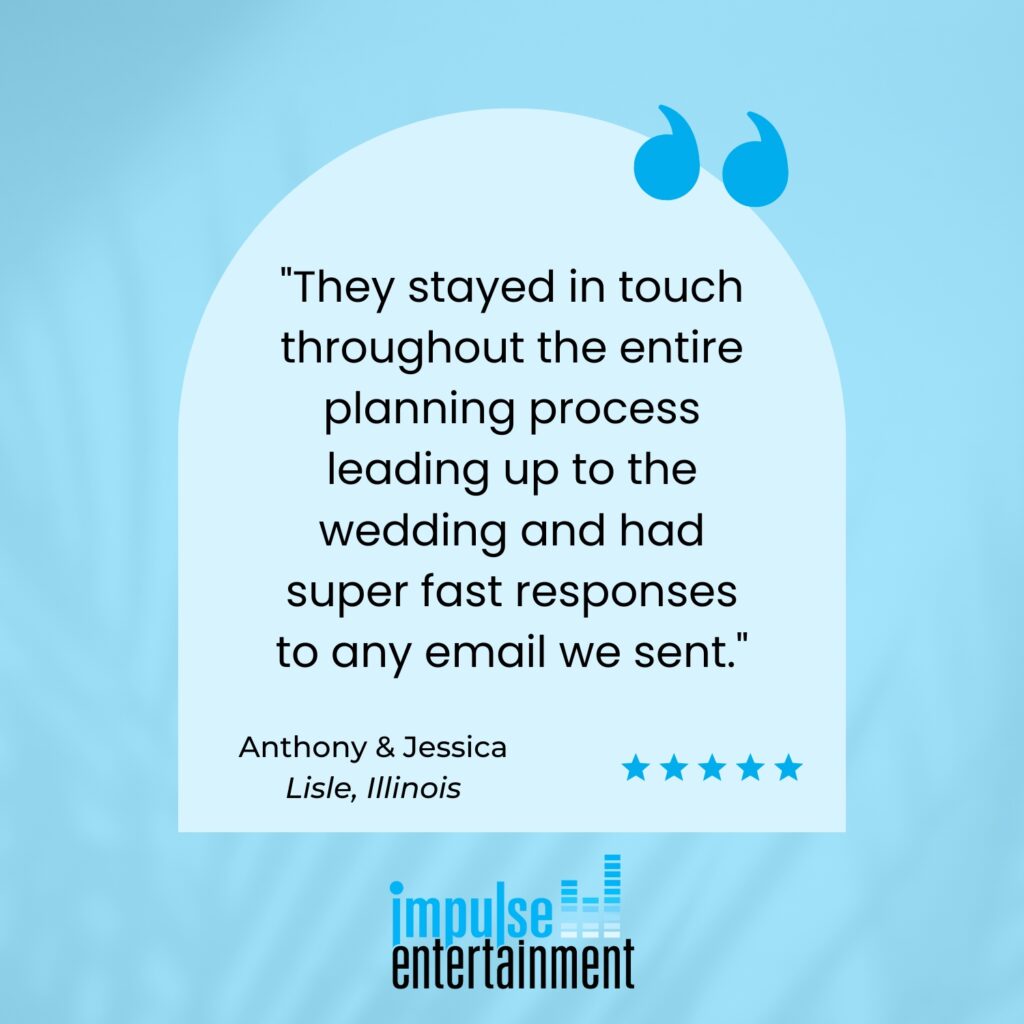 Our commitment to quick response times means that you can rest assured that we will be there to help every step of the way. We know that planning a Chicago wedding can be stressful, and we want to make the process as easy and seamless as possible. Our team is always available to provide guidance and support, so you can focus on the things that matter most – your love for each other and your special day.
We understand the importance of trust and reliability, especially when it comes to your Chicago wedding day. That's why we take the time to get to know each of our clients and guarantee a 24-hour response time. We want you to feel confident in choosing Impulse Entertainment as your Chicago wedding DJ, and we will do everything in our power to make sure your special day is simply amazing.
In addition to our quick response times, Impulse Entertainment also offers a wide range of services to make your Chicago wedding day truly special. We provide crystal-clear sound, state-of-the-art lighting, and interactive photo booths. Our team of experienced Chicago wedding DJs will work with you to create the perfect soundtrack for your wedding, from the ceremony to the reception.
Contact us today to learn more about our services and how we can make your wedding day unforgettable.